The Importance of Natural Dye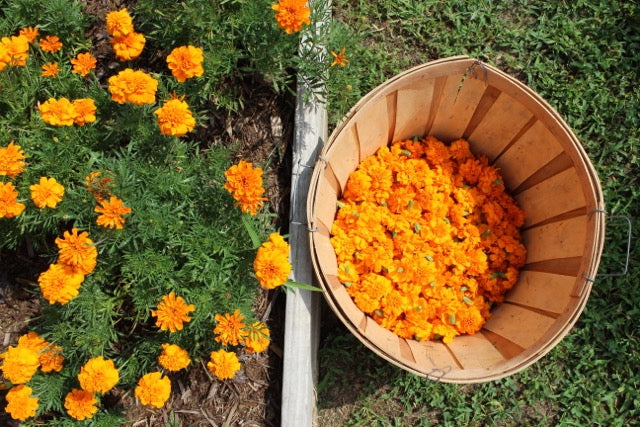 The rise of "fast fashion" has made the global textile and apparel industry one of the most resource-intensive industries in the world – resulting in toxic pollution, unethical labor practices and mounting waste. Here at Anchal we are designing change through sustainable practices in our holistic program, process, and production. 

Destruction of Synthetic Dyes 
The textile industry is #1 polluter of freshwater on the planet. The increased demand for textile production and the use of synthetic dyes to make "fast fashion" products has caused a great deal of harm to our environment. The harsh chemicals released during industrial dyeing damages aquatic systems and make drinking water dangerous, and are not easily reversible. 
Not only are synthetic dyes leaving irreversible damage on the earth,  but can also have lasting effects on our health. Chemicals such as ammonia, chlorine, and heavy metals are regularly used in the traditional textile industry, and can eventually end up in our skin. The World Bank estimates that some 72 toxic chemicals are pumped into water during textile dyeing, over 30 of which are poisonous and damaging to human health, directly & indirectly. Many do not realize that something as simple as throwing on a t-shirt in the morning could be potentially damaging to their health.

Why Natural Dyes

Natural dyes are a nontoxic alternative to conventionally used synthetic dyes that are causing irreversible damage to the planet. By using natural dyes, we are directly cutting back on the toxic chemicals being released that are associated with synthetic dye. Because these sustainable steps are taken we eliminate any sort of toxic waste that is normally associated with dyeing textiles, and begin to offset the damage from the traditional textile system. Not only is the use of natural dye cutting back on releasing chemicals into the environment, but also preventing toxins from entering your home and body.


Our Initiative: dyeScape

We do not take lightly the work it takes to offset the damages caused by the textile industry. Anchal believes that by sourcing recycled material, organic fibers, natural dyes, alongside creating quality handcrafted textiles, we can begin to make a difference in the textile industry. 
 Locally in Louisville we have our dyeScape initiative - a network of gardens grown on vacant properties that support the cultivation of dye plants for the purpose of natural textile production in Louisville, KY.  Our garden holds different flowers like indigo and marigold with natural dyeing properties, that are harvested for the production of naturally dyed products. Our initiative has set out to revolutionize the textile industry and is meant to be replicated all over the world! In 2017 we launched our international initiative, Designing Colorful Change, which allowed us to train 135 women in harvesting and natural dye techniques in Ajmer, India. dyeScape has been empowering women, revolutionizing the industrialized textile system, educating  the community about sustainable textile practices, and building productive urban landscapes since 2014, and hopes to continue to grow for many years to come!

Call to action 

It's never the wrong time to learn more about natural dyes and all of their benefits. Here are some steps to take to support sustainable dyeing techniques!
Make you own dye at home! We show you the step by step process in

this post

on how you can naturally dye your own bandanas! 

Check out our exclusive collection of naturally dyed home decor and ethical fashion accessories

here.

 
Shop Naturally Dyed Silk Bandana.