Anchal's Exclusive Capsule Collection at The Guggenheim Museum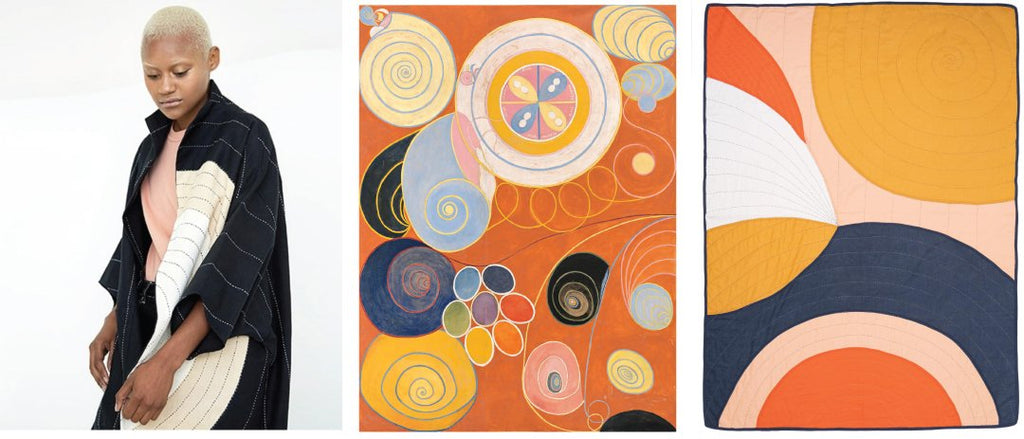 Anchal is excited to announce an exclusive capsule collection in partnership with the Guggenheim Museum. The collection of textiles entitled Spiral and Radial, were inspired by the modernist works of female artist Hilma af Klint that will decorate the spiral ramps of the Guggenheim beginning on October 11, 2018.
This collection was designed by sisters, Colleen and Maggie Clines, and entirely handcrafted from 100% certified organic cotton by Anchal artisans in Ajmer, India.  It features a diverse mix of two quilts, two scarves, two bandanas, two tote bags and a kimono jacket that incorporate abstract geometric forms and shades of brilliant color.
"As designers, it is a dream come true for my sister Maggie and I to be invited to create a custom collection for the Guggenheim Museum," said Colleen Clines, Co-Founder and CEO, Anchal Project. "To bring this opportunity to our artisans in India and witness them bring our most complex designs to life has been astonishing. It is a true testament to their growth as designers and dedication to Anchal's program."
Anchal was one of only 7 predominantly female groups of designers tapped to design for this exclusive capsule collection created in celebration of Hilma af Klint: Paintings for the Future, the first major solo exhibition in the United States of the Swedish artist. 
Revered as one of the pioneers of abstraction, Klint's work was heavily influenced by spirituality. She used her paintings as the medium to communicate spiritual messages from beyond what the human eye could see. She used striking geometric forms, varying scales and bold colors to convey these messages. Much like Anchal's own artisans, she was a storyteller through her artwork.
Klint kept her abstract paintings extremely private and and never publicly exhibited them during her lifetime, convinced the world was not quite ready to understand the complexities of her work. In fact, she wrote in her will that none of her work should be shown for at least twenties years after her death. 
Sister's Colleen and Maggie Clines took elements from the geometric curves and spiral lines in Hilma's paintings to create a detailed quilt design and several coordinating styles. To understand a little more about their design process, we sat down with the sisters to learn a little more about this very special collection of textiles:
1. What was your impression of Hilma af Klint before this project?
Maggie & Colleen: Before doing a deep dive into Hilma af Klint's work, we were immediately drawn to the bold geometry and story rich abstraction. The layers of symbology found in The Paintings for the Temple captivated our imagination and desire to spend longer periods exploring the connections between the shapes, forms, and symbols. 
2. How did you relate her work to your own?
Maggie: I am fascinated by her talent for story telling & visual language. When designing for Anchal we always strive to share a larger story of empowerment and craft, so it was inspiring to learn the methodology behind her techniques & symbolism. I look forward to taking what I've learned from Hilma's work into future designs.
Colleen: Our work with Anchal focuses on the convergence of vernacular imagery, heritage artwork and women's journey to empowerment through the medium of quilting. The synergy found between our textile narrative process and Hilma's use of geometry and symbolic linework resulted in textile compositions charged with her fluid spiral symbols and an investigation into a formal geometric language. 

3. What inspired you most during the design process of this capsule collection?
Colleen: I enjoyed the freedom to explore Hilma af Klint's spirited paintings and appreciated the support from the Guggenheim team to dive deep into our personal creative process. The lines and shapes from the Paintings for the Temple in particular immediately stimulated ideas of how they could be translated into quilt panels and lines of stitching. When Maggie and I sat down to beginning sketching, I enjoyed framing certain aspects of Hilma's work and pulling elements of meaning into the compositions. I was especially inspired by the spirals in her paintings, symbolizing evolution or change during a journey, which I saw an immediate parallel to Anchal's artisans' journey to empowerment while they stitch each piece together. I also love the fact that these designs give a nod to the iconic architectural details of the Guggenheim Museum, the rotunda and continuous spiral ramp.
4. How did the design develop from your initial sketches? What happened next?
Maggie: It was an exciting project to for so many reasons, but it has been our most challenging collection to date! Once we finalized our designs, together with the Guggenheim team, we began the process of translating our sketches into reality. Because this collection is curvilinear & quite irregular in patchworking we had to create new techniques for production. Our Project Director in India, Saloni Gupta, & I worked diligently in translating these sketches from an idea, to precise guidelines, to template patterns -- once the pattern was set, our talented artisans brought the designs to life stitch by stitch.    
5. What does it mean to have your designs and the incredible work of the artisans for sale in the Guggenheim Museum?
Colleen: I'm still having to pinch myself! I am really proud of the designs, but even more proud of the artisans and our leadership team in India for their artistry. I can't imagine a more perfect collaboration to showcase the quality and artistic skills the artisans have grown to achieve. These are by far the most complex pieces and patterns we have ever created together. My heart could burst!
Maggie:  This partnership is one from dream, ultimately it makes me think of all the individuals who have helped Anchal get to this stage -- without whom Colleen & I would never have had the opportunity to share the talent of our artisans. I'm honored the Guggenheim Museum believed in our project & saw the beauty & story behind our products. 
7. I'm sure it's impossible to choose but what is your favorite piece from the collection?
Colleen: Hands down the colorful spiral quilt! 
Maggie: I would have to say the Kimono is my favorite!
If you just can't wait to get your hands on one of these beautiful, one-of-a-kind designs, the full collection is available for pre-order online through the Guggenheim Museum ahead of the October 11th release date.