Upcycling Fashion: From Vintage Sari to Kantha Quilt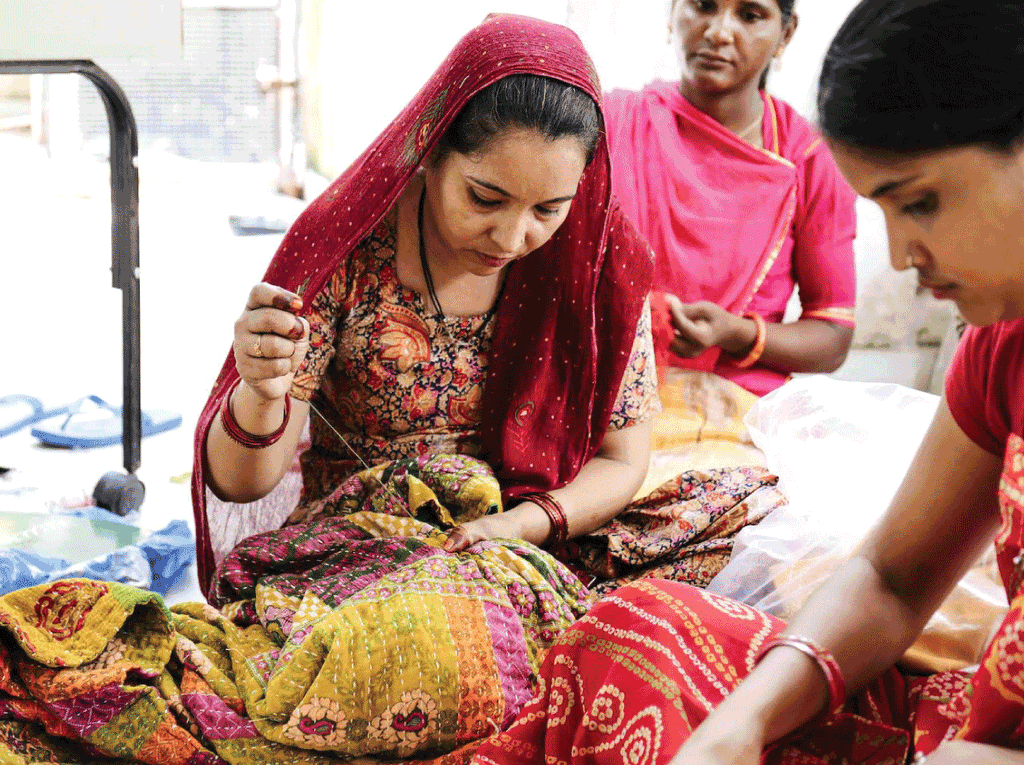 Our large kantha quilts are entirely hand stitched from recycled cotton saris that we hand select from vintage markets in India. Saris are a piece of cloth elegantly wrapped and worn by women in India. Our name comes from the anchal, the most decorative edge of a sari, draped over the woman's shoulder. 
Why We Upcycle Cotton Saris
The rise of "fast fashion" has made the global textile and apparel industry one of the most resource-intensive industries in the world – resulting in toxic pollution, unethical labor practices and mounting waste. Anchal believes that by sourcing recycled material, alongside creating quality handcrafted textiles, we can begin to offset the damage to people and our planet.   

Aside from the environmental benefits from upcycling cotton saris, the true intention that lies behind our mission is deeply rooted in the meaning of our name. "Anchal" directly translates to, "the decorative edge of a sari used to provide comfort and protection to loved ones" or, "shelter". Our products set out to serve the same purpose of a sari, to comfort those who purchase them or receive them as gifts. This is ultimately reflected in our holistic program that our artisans are a part of. 

We honor our artisans in every way possible, and this is directly reflected in the use of vintage saris. Saris have been a part of Indian culture for over 5,000 years and are considered to be one of the oldest forms of garments. Using vintage cotton saris not only represents our outstanding artisans but also their beautiful stories of empowerment that makes each artisan unique, just like the Kantha quilts they create. 

Our Process: Upcycling and Creating a Kantha Quilt 
While there are many places you can find kantha quilts, we truly pride ourselves on the quality and craftsmanship that go into creating our one-of-a-kind traditional kantha pieces. On average it will take an artisan 11 to 14 days to make a beautiful quilt with around 200 lines of traditional kantha stitching. A skilled artisan can typically produce 2 quilts per month. But before the artisans can start bringing these quilts to life, they must have the perfect, softest, most beautiful cotton saris to use. 
Step 1: Selecting Saris
We work hard to source the highest quality, 100% cotton saris from markets in Jaipur India. However, we recently were facing a challenge in finding the correct shades of saris for our production guidelines. Over 80% of the saris we were receiving from Jaipur were getting rejected by our project assistance for either quality or color issues. To help reduce this number of rejections and make the process more efficient, the team decided that moving forward, all saris would be hand selected by project assistants.
Two of our bright project assistants, Shama and Shakuntla recently took their first trip to Jaipur to hand-select "new" vintage cotton saris that would be used for our next order of kantha quilts. With strict quality guidelines in hand, they decided to only bring back 100 of the 400 selected saris.  This process gave them an opportunity to shine as leaders and to make an important decision in the production process that would lead to overall better efficiency and less waste.
"To buy saris is a very small part of our journey. We truly enjoyed every moment, the ride of bus, coming to Jaipur, going to sari vendor in Bolero, watching the new market of Jaipur, sitting and enjoying the delicious lunch cooked by Motilal ji - just every part of it. It was a fun day of exploring for both of us, and we look forward to our visit again"
Step 2: Mixing and Matching Designs
Once the saris are chosen by our project assistants, they are ready to start their journey to becoming a handcrafted Kantha quilt. Unique but fluid color combinations of saris are selected for the outer layer of the quilt. The artisans have learned in design workshops how to use the color wheel and popular color families to create beautiful color combinations to create the outer layer of each quilt. 
Step 3: Bringing it Together with Kantha Embroidery
After creating the perfect color combinations for the quilts, the panels are sewn together using a basic stitch. The quilt is then assigned to a specific woman who will use traditional straight stitch Kantha embroidery to stitch around 200 lines into the fabric. This is where the artisans get to showcase their design techniques and artistry, as the quilt comes together. 

Addressing Waste from the Fashion Industry Through Remarkable Design
Taking the extra steps to send our project assistants to Jaipur to hand select vintage sari not only ensures the most beautiful color combinations for our quilts, but also reduces the amount of waste we produce.  By sourcing vintage and natural materials, we are able to address the environmental exploits of the fashion industry head on, and hopefully inspire others to do so as well. Fashion and design is an industry that connects millions of people together across the globe. We hope to show that this industry does not need to compromise the environment, or the lives of many who are involved with production. For none this would be possible without our artisans who have taken educational courses, design workshops and overcome extreme adversity to produce beautiful, marketable pieces.
We are always adding new large kantha quilts and small kantha throws to our online shop.  Make sure to check out our newest selection of one-of-a-kind kantha quilts and sign up for our newsletter to be the first to know when they are restocked!