A Look Behind The Curve Series Design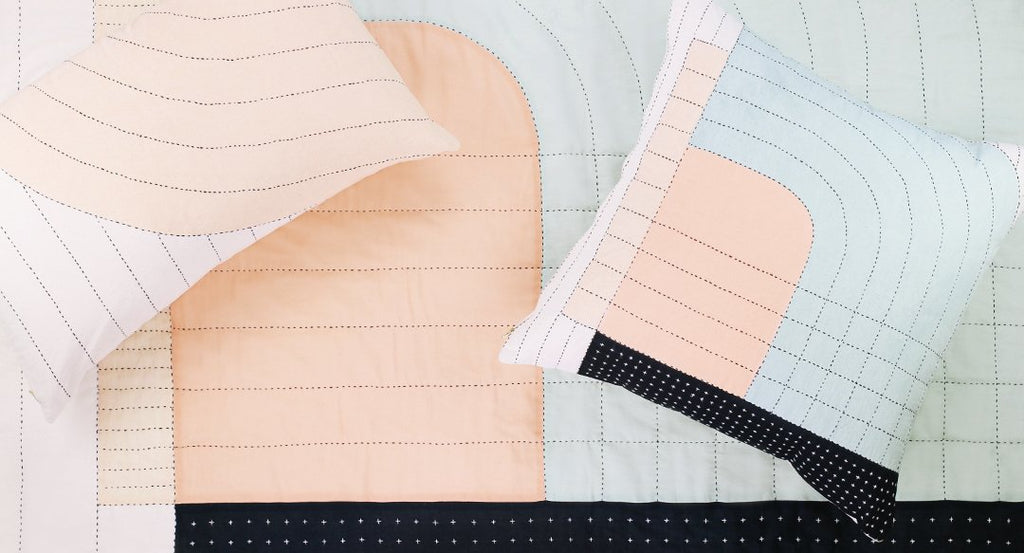 Expanding on the tremendous success of the award-winning Narrative Collection, the new Curve Series continues to push the boundaries of contemporary handcrafted goods by bringing the art of storytelling to everyday home goods & accessories. For the first time, Anchal's artisans are flourishing into designers, translating their visual perspective into innovative designs.
During a design workshop taught by sisters Colleen and Maggie Clines, the Anchal artisans interpreted their three-dimensional surroundings into tow-dimensional photographs and then translated the images into quilted fabric collages. The Seema Curve Throw Quilt originated through the lens of artisan Seema and her view of an ordinary rooftop in India. The results culminated in a bold modernist composition with layers of 100% organic cotton and activated by a radiating stitch pattern.
The Seema Curve Throw Quilt, and coordinating pillows, bring Anchal's mission full circle by encouraging the artisan's creative confidence to express their personal identities through fabric while creating unique works of art that tell the story of empowerment.
"Empowering our artisans with the tools to become the designers is something we've dreamed about since the beginning of Anchal," says Anchal Project Co-founder and CEO Colleen Clines. "This release has been especially meaningful for our team, and is an incredible milestone for our artisans. Every piece is a reflection of the details and beauty of the artisans original artwork. It's been truly special to bring their visions to life."
We also have some beautiful new accessories launching later this month. Make sure you are on our
email list
to be the first to know when they arrive.
Share with us in the comments your favorite piece from The Curve Series.