Introducing: Men's Ties + The Kentucky Gent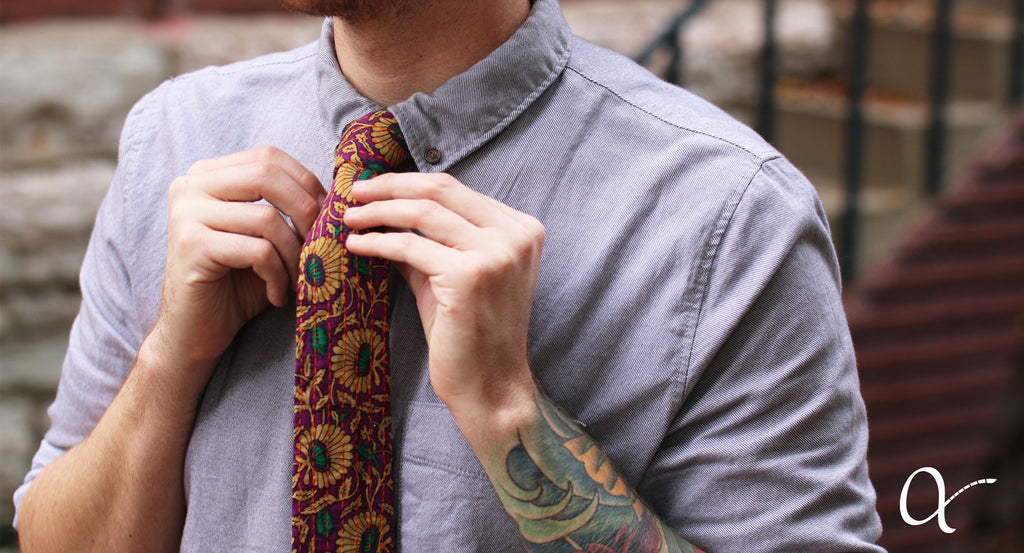 Meet the Men's Tie: This modern square-end tie is a perfect addition to your dress or professional-wear look. With interesting fabric and texture, these ties will add a little polish to your wardrobe.
We were thrilled when Josh Johnson, the life and style blogger behind The Kentucky Gent, agreed to help us launch our new collection of menswear.  We asked him a few questions about his involvement with Anchal Project before having him model our new ties:
How did you first become involved with Anchal Project/first hear about the organization?
I first became aware of Anchal Project when they had their Anchal x Urban Renewal Fashion Show in 2013, and I've been following their journey closely ever since then.
What has surprised you the most about working with the Anchal Team?
Not much has surprised me about working with the team actually. They're just as hard working, dedicated, and humble as I originally suspected.
What do you wish other people knew about Anchal?
I wish more people knew about Anchal in general, and more importantly what the mission behind the brand is. I love, love Louisville, but we're a big, little city and it's hard for new things to take off sometimes – we tend to be stuck in our ways.
What would you tell someone who is thinking about donating or volunteering with Anchal?
That their money and time is going to a worth while effort, and I encourage them to Ever since I heard one of the artisans speak about they were able to feed and provide for their family, without jeopardizing their own life, this cause has been one that's near and dear to my heart.
What has been your favorite part of being involved with Anchal?
Seeing the organization grow. Since I'm also a local entrepreneur it's always incredible to see success stories come to life right in front of my eyes, especially when it's involving such a hard working crew.
"These ties are great. I love the selection of different colors and various styles." - Josh, The Kentucky Gent
I think the quality [of the ties] is great as well, and I much prefer to wear this material vs. the traditional tie" - Josh, The Kentucky Gent
We think these are some of the more unique ties you'll come across and we hope you like them - The Kentucky Gent does!
Click here to shop our ties and let us know what you think of the new collection below.