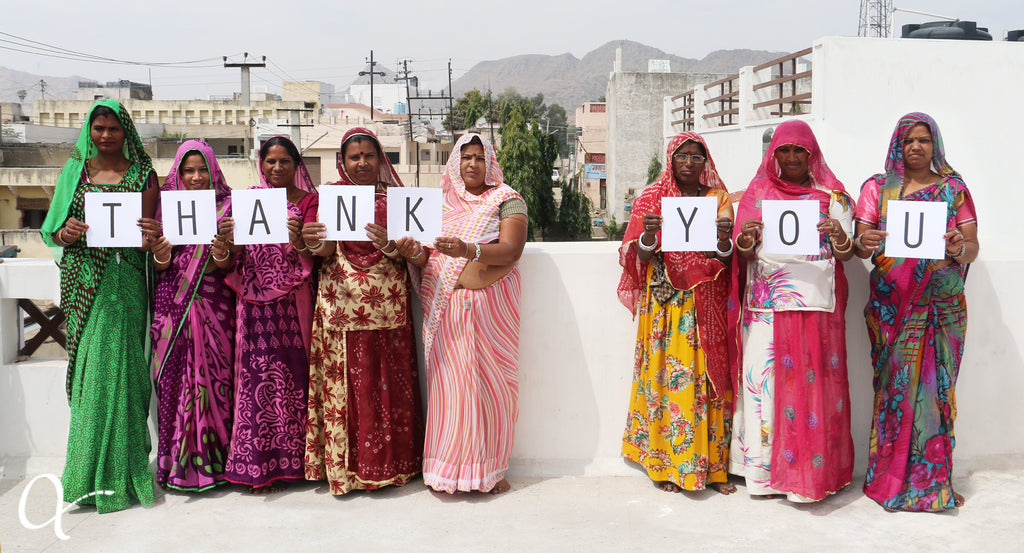 As we begin another year at Anchal Project, we wanted to pause for a moment and give thanks to all of our gracious donors, sponsors and volunteers. Without you, we would not be able to change lives. Please take a moment and read a note from Anchal's Co-Founder and CEO, Colleen Clines:
First, thank you for your commitment to designing change with Anchal. As we celebrate Anchal's 5th year of operation, we recognize this milestone would not have been reached without your support. Together we are providing global change and with your continued generosity we can scale our impact and give women on the waiting list the opportunities they so desperately need.
Anchal's program demonstrates that when we systematically address employment inequality, we can reduce the number of women reliant on the sex trade. Since it's founding in 2010, Anchal has trained over 150 women and is currently supporting 77 full-time artisans including 5 project assistants. We have witnessed women, most of whom had never written their name; carefully construct beautiful textiles marked with their signatures. This past year we learned that:

100% of artisans have their first personal bank account
88% of artisans made improvements to living conditions including new homes, additions & water filtration
96% of artisans have left the sex trade or decreased their clients

Anchal's success is evident by each artisan's personal growth. Ferosa purchased a small plot of land for a farm, Laxmi became a homeowner, Renu bought her family a filter to ensure safe drinking water and Seema paid for her daughter's private education.
Artisan Neetu shared, "We were earning before but the money was coming through wrong means and also it left a lot of free time. Life was dragging and we only thought it was all our fate. But, being part of Anchal gave us a new purpose. Now, we think about new ways of bringing positive changes in our lives, making new products, decorating our houses and create beauty around us. Thank you, you are changing our lives!"
Anchal's program is working, but we need your  help to strengthen and expand our program. A woman in India may feel like a world away, but as a global citizen you have the power to change the lives of women and families like Neetu. Your continued support will significantly impact Anchal's future.
Thank you for your support and generosity, together we can design true change!
Sincerely,
Colleen ClinesAnchal Co-Founder + President/CEO