A Joyful Celebration: International Women's Day 2016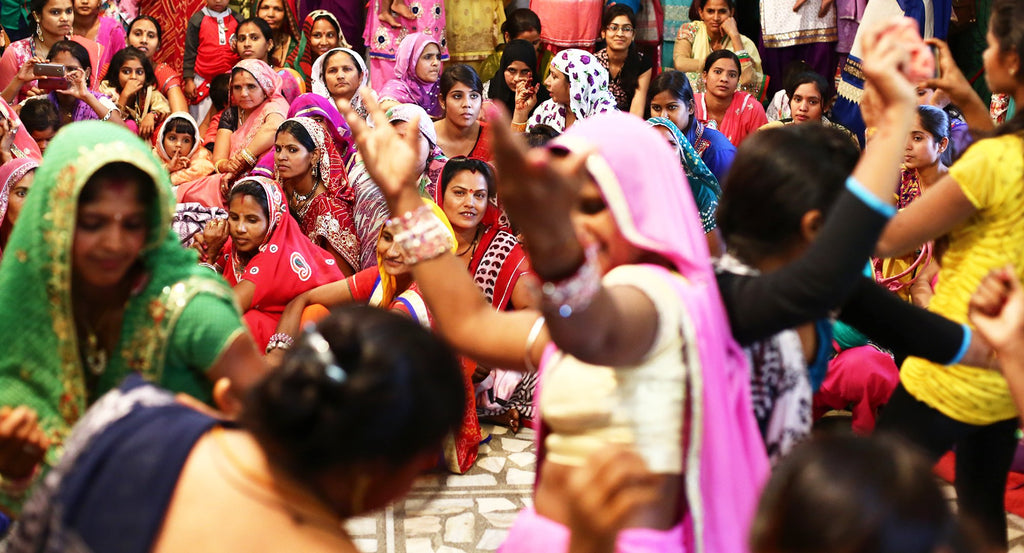 International Women's Day presents a unique opportunity for Anchal artisans to leave behind their obligations, abuse and daily struggles and surround themselves with a network of support and a platform to share their stories. As an organization focused on empowering women worldwide, we view it as day for great celebration and learning.  Continue reading for a recap of the amazing celebration, by 175 artisans in Puskar, as recounted by Jaimala Gupta, our friend and partner at Vatsalya & Anoothi.   
The idea this year was to celebrate, celebrate in the truest and fullest sense of the word.
We changed the venue this year to Pushkar and made it a real outing for all the women - leaving  enough time for them to visit the ancient Brahma Temple and the holy shrine of Ajmer Sharif. During the celebration, the women were bold and boisterous, jubilant and carefree, dancing with ecstasy in high spirits.
Their joyful and exuberant inner selves were suddenly all out and free. Everyone danced to their heart's content for over one-and-a-half hours!

At three o'clock a sumptuous meal of Dal-Bati-Choorma was served by all the men, allowing the women to eat first.
Even in modern India homes, women always feed the men first, it almost never happens that women eat first, leaving their men waiting! On Women's Day, the men not only served the women, they served them lovingly, happily insisting on them eating more, in the true tradition of Indian hospitality.  
After enjoying their meal, the groups of women left to explore the city of Pushkar. Even though our official program ended at 3pm, the last group of women didn't get home until about 11:30PM! They visited sites and shopped until the group leaders physically dragged them out  to put them on the bus. When our staff checked in around 11:30 that night, one of the young artisans replied,
"For the first time in my life, I am outside my home at this hour. I cannot describe how pleasant the cool breeze feels and how elated I feel strolling on the highway, all by myself, feeling safe and contented…!"
There is no denying that they made the most of everything: the time in hand, the total freedom, the feeling of safety and security of being with resourceful friends, a bus all to themselves with dedicated drivers, money in their pockets and high spirits!  
During the day's celebration we made time to illustrate to the women the impact they are having. How they become more empowered when they combine their efforts; how they impact the market, both locally and globally; how the quality of the products they made are making a business successful; how they could improve their quality of life by increasing their earnings; how they could contribute to the wellbeing of society as a whole. We wanted to make them understand the great significance of their role in development and that their empowerment goes far beyond earning some money every month. With their earnings, they are sending their daughters to college, helping their sons start small businesses and have built their own houses.  During our presentation, they were also introduced to the international market where their products are being sold and much appreciated by the people.  Many of the women who work from home had no idea how their beautiful hand-made products found their way to the USA, Australia and Europe. The women expressed their gratitude with awe and admiration at how their modest little skills were making their way to far-off countries whose names they were hearing for the first time.  
For most of them, the boundaries of the world finished at the border of their villages.
All of the artisans work hard, but there are always a few that work especially hard. They are seldom absent, they never lose focus, they inspire others, and fight injustice and unfairness with a calm determination.  While everyone receives a special gift on Women's Day, we select those who exceed expectations in their skill and their resolve to end the cycle of poverty and exploitation for themselves and their children. The following Anchal artisans were chosen to be honored with cash rewards:
Lakshmi
Naziya
Maqsuda
As they received their cash awards, they shared their stories. Anchal artisan Nazia went into great detail as to how, prior to her involvement with the program, she had never known any happiness or peace of mind.
"I was married at the age of fifteen and then was abandoned by my husband at sixteen with a child in my lap. I went to live with my mother and was responsible for her, my younger sister and my little son.  It wasn't easy and I was forced to do wrong things, which led to another cycle of abuse and exploitation beginning for me that lasted a couple of years.  It was then that I was approached by Vatsalya to enrol in a skill-building programme. Even that wasn't easy, as my past life kept intruding on my attempt to start a new and dignified life. But I settled down slowly and gradually."
Today, Nazia is one of the best and most hard-working of our artisans.  With her earnings she sends her son to a good school, saves for her sister's marriage and covers the medical expenses of her mother, who suffers from cancer. The award ceremony, while making everyone happy for the recognition it gave to all, also had a very sobering effect on us all.  There was a great feeling of solidarity as many women shared their life stories for the first time in front of such a large group.

This year and every year, we support International Women's Day. It is a day that brings to light the amazing efforts being made to promote opportunities for women and gender equality across the globe. This awareness is something Anchal strives to achieve everyday for women in India. With your voice and support, we can continue to empower the women in our program and in turn empower their families.