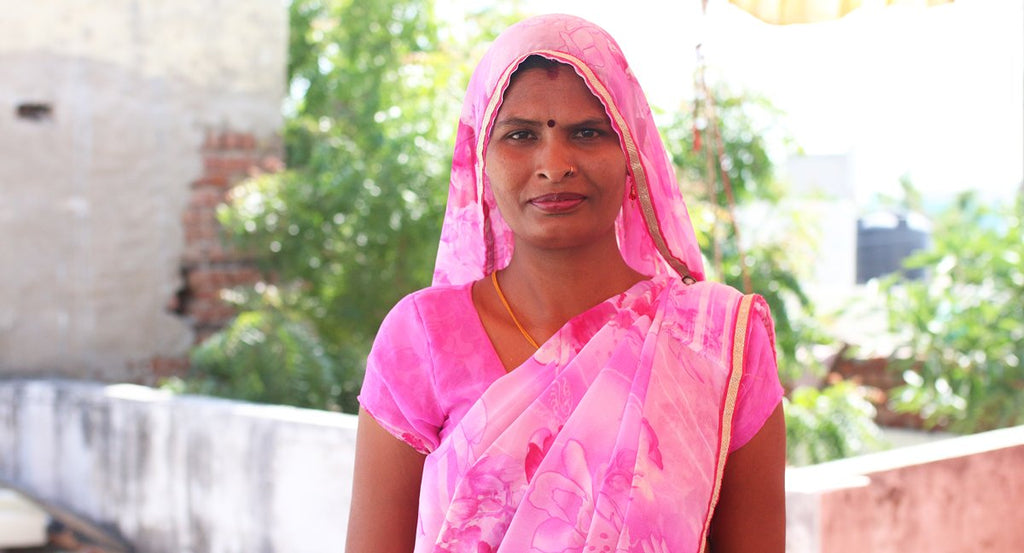 On our most recent trip to India, we had the opportunity to visit with artisan Choti and learn more about the true impact our artisan program is having in her life and the life of her family.
When we first met Choti just three years ago, she was reserved and suffered from a lot of anxiety.  After spending the week with her this past March, we're so happy to report a distinct transformation in her demeanor. Today, Choti describes herself as confident, she has lost a lot of the anxiety she once carried around and is often spotted with a huge smile across her face. 
A 35 year old mother, Choti works consistently to support her family.  While she mostly works from home, she enjoys coming into the workshop on occasion to leave the stress of home behind and spend time with the other women that she has become close with. These friendships are apparent as we watch her work alongside Seema, Kalalwati and Pooja, occasionally looking up from her stitching with a smile and joyful laugh as they tell each other stories and jokes. 
Since joining Anchal, Choti's biggest accomplishment is being able to send her children to school, an opportunity she never had herself. During  her interview she told us, "I no longer have anxiety and am proud I can save for myself and my children."  She is no longer in a position where she has to borrow money to help pay for basic necessities. In fact, this year she was able to pay off all her debt and expenses and is able help with the medical expenses of her mother who is suffering from cancer.  With a little extra money she put aside, she even purchased earrings and an anklet for herself. A personal reward for all her hard work.
In just 3 short years with Anchal, Choti has proven herself over and over again with her dedication to Anchal's program.  To recognize and reward her hard work, we were proud to promote her to Senior Artisan in March while in India. Choti has grown so much personally and creatively, and we were so honored to give her this well deserved promotion.
Choti is such a shining example of how Anchal can change a woman's perspective and give her the courage to strive for a brighter future.  With the generous support of sponsors, we are able to continue to promise Choti an empowered future.