A Look Behind the FW19 Prism Collection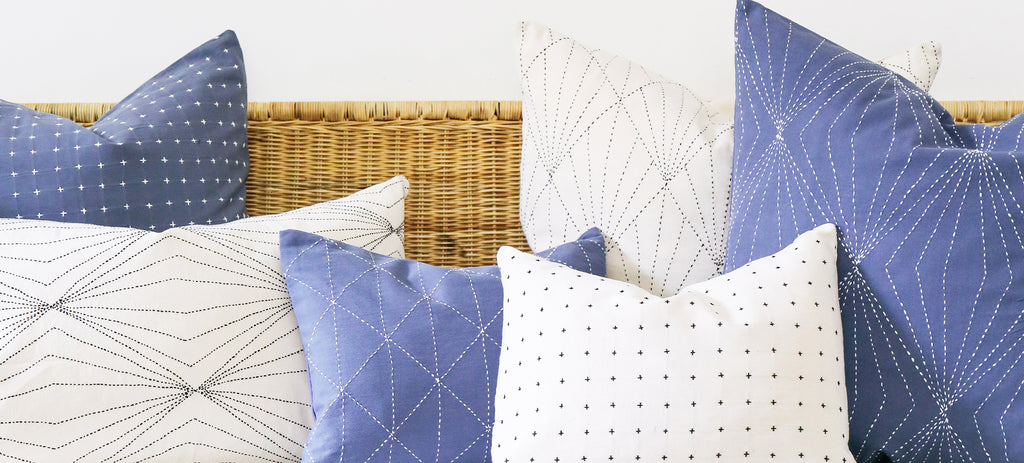 FROM MAJESTY TO MASTERY 
When designing the Prism Collection, the Clines sisters drew from their architectural training, finding inspiration in the beauty of Indian buildings. Whereas past collections originated from structures featured in the daily lives of our artisans, this collection was inspired by the bulbous domes, vaulted gateways and delicate ornamentation featured in India's most iconic monuments like the Taj Mahal and Humayun's Tomb.
By finding inspiration in magnificent feats of architecture, we wanted to showcase the talents, hard work and precision achieved by Anchal artisans. The artistry in the detailed stone work and geometric grooves featured in the arches and ceilings of each building translated into designs with intricate stitch patterns for our artisans to masterfully quilt. 
SHOWCASING COMPLEX TALENT THROUGH SIMPLE STITCH PATTERNS
Over the past 9 years, many of Anchal's artisans have become extremely talented with kantha stitch work, mastering even the most challenging compositions. The Prism Collection pushed each artisan's skill development further than ever before. Demanding precision and the utmost focus, these pieces display each artisan's determination and resilience. 
  "With every collection we try to push their boundaries and skillset one step further. We believe this collection represents complex talent through simple patterns." - Maggie Clines
MISTAKES LEAD TO EMPOWERMENT
When training the artisans on the new designs, there were many early mistakes. Every grid or offset line is measured to an 8th of an inch. This level of precision did not transition easily at first. But once the team got to know the repeating patterns, along with shortcuts for marking each piece, they began feeling confident in their ability to master these new designs.
"With each new stepping stone, there is always hesitation. But the confidence found in the end through perseverance and courage is one of the greatest benefits of Anchal's program." - Maggie Clines