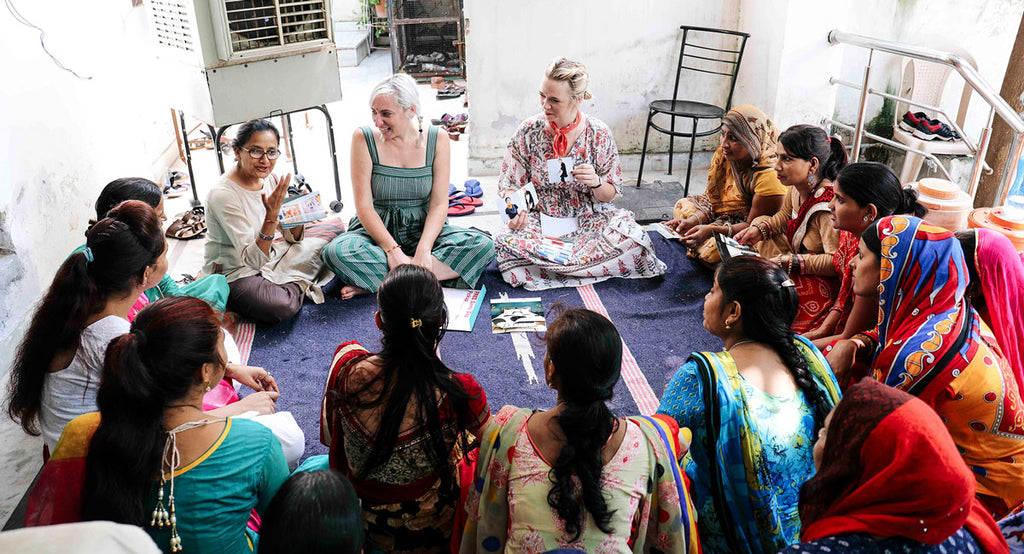 A different kind of trip
Our journey to Ajmer, India this past September was unlike any we've experienced before. In the previous nine years, time with our artisans was mostly spent expanding design skills through interactive workshops. But this trip we had a different objective. We focused our attention on conversations and actions related to scaling.
Over the past year, Anchal has experienced significant growth. In 2018, we produced 8,626 products. By the close of 2019 we will have produced 14,853. We also increased our artisan enrollment from 130 to 163. Since Anchal's founding in 2010, we have embraced strategic and sustainable growth; however, this year we are experiencing new challenges that come with responsible scaling. 
Design thinking in action
As designers, we utilize our skills in creative problem solving and design thinking to propose innovative solutions while holding empathy at the core of every decision we make. This includes using design thinking to help solve our scaling challenges and improve operations on the ground. The first step of this process starts with listening. Though we communicate with our team in India once a week, via video chat, it can be extremely difficult to truly understand the daily challenges the team is facing.
Upon our arrival, we spent the first four days listening, asking questions and watching current workflows within the workshop. While observing the team and meeting with our Project Director, Shefali, our objective was to put our minds together to improve efficiency collaboratively. 
Anchal's workshop is a bustling place. With 13 project assistants, a master tailor, our project director plus more than 150 artisans in and out, there are many moving parts. The mighty team of project assistants manages tasks including cutting new patterns, quality control, machine finishing, tagging, washing, sorting vintage saris, tracking each item during production, distributing payment to artisans and so much more. Watching the team is like watching a family cooking a meal together - lots of love, hard work and a bit of chaos. 

As we enter a new phase of growth, we want to ensure that the programs' infrastructure can handle the next chapter. Collaboratively, we learned and took action to improve:
New ways of distributing tasks among project assistants

The need for further advanced production planning

Tactics to calculate and track daily production 

New equipment needs like sewing machines and storage racks

New production restraints during the monsoon season that excluded the creation of large pieces like our Queen and King quilts

Creative ways to use fabric waste 

Most importantly we discovered personal growth & leadership development within our core team, challenging us to create better systems of support 


Impact stories from the artisans
During our group conversations with the 13 project assistants, we shared stories of Anchal's incredible successes from the past year. We sat in a circle, passing around photos of their hard work featured in stores like the Guggenheim Museum. Their reactions were ones of incredible pride, joy and encouragement. Shama shared, "It makes me feel so happy that the pieces we make are loved by people all over. I feel so proud when I see the photos at the Guggenheim and the faces of people wearing them." Seema told us she has learned new skills, "I now know all of the designs and I feel proud that I can teach all of the artisans to make each piece. I never thought I could do it." Gulshan shared how she can now purchase property to build a home for her family. She also told us how much she values the Anchal community, "This place is a family bonded, we are proud to work together. When I come here all of my problems are gone."
We later hosted the 35 senior artisans for an afternoon. We again sat in a circle and shared more photos, like their quilts in the windows of Madewell and the faces of customers from different events. We told them that their skills were unmatched and that their talents were unique in the global market. Then we sat and listened. We heard their concerns and their stresses. But ultimately, we heard their confidence and pride. Senior Artisan, Basanti shared, "we cannot believe that the products in the beautiful look book photos are our hard work! We have come so far together and have so much more to give."
The evolution is particularly clear when comparing answers to this question - 8 years ago vs. today - "With Anchal, what can you afford now that you couldn't before?" During our first trips, they mostly answered, fresh fruit, food or basic human necessities. Later trips we began to hear the artisans were investing in their children's education and making small home improvements. During this last trip, we learned they are beginning to invest in themselves. They are purchasing new jewelry and cell phones, some are even purchasing new land to one day build their own home. 
What's next?
Our job now is to create new systems and develop our program for the next chapter. Along with our team in India, we are working every day to improve so we can expand our impact and offer this opportunity to more women in need of hope. 
One afternoon in Ajmer, we visited a center in the middle of a red-light district that offers skills training for commercial sex workers. We were hoping to meet potential new artisans and share stories of current artisans after joining Anchal. We walked up a small staircase and into a 20' x 20' room where we were met by the faces of over 100 women. Though so much as changed for Anchal over the past year, the basic need for opportunity is still ever-present.
We are focused on the future, we are focused on growth and we are focused on the global sisterhood that you have helped create. We hope all of you reading feel the impact you have helped create in hundreds of women's lives. Thank you for making this story possible!
-Colleen & Maggie Clines