The Inspiration Behind the Fall/Winter 2021 Collection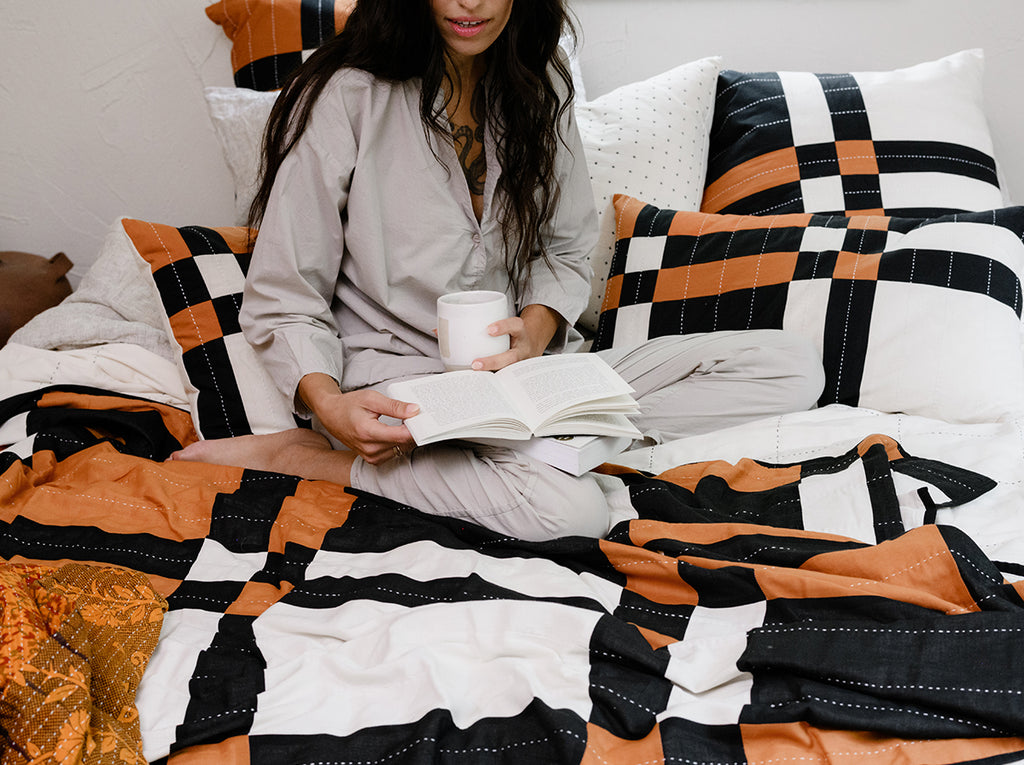 From Christian Dior to Alexander McQueen to Mui Mui, patchwork dominated the runways in 2020 and continues to be one of the most sought after trends of 2021.
During the height of the pandemic in 2020, most large-scale retailers saw a delay in manufacturing of their goods due to Covid-19 restrictions and lockdowns, disturbing the supply chain. As production decreased or came to a halt completely, demand increased as more shoppers than ever before took to online shopping as a form of escapism. The delayed arrival of inventory caused not only an excess of Spring/Summer 2020 inventory during the wrong season, but also forced designers to get creative with the materials they had on hand.
In 2021, patchwork emulates the desire for comfort, familiarity and storytelling in these uncertain, dismal times. It puts an emphasis on slowness, craftsmanship and highlights the beauty of up-cycling mere scraps. With this in mind, we married the classic technique of patchwork with plaid, looking to traditional Indian madras for inspiration. Let's take a look behind the Patchwork Plaid Collection and explore why madras influenced the patterns of our newest designs.
So what is madras?
If you've ever looked at a summer dress shirt or a pair of plaid shorts, you're probably familiar with madras. Madras refers to a lightweight fabric made from yarn-dyed cotton that is hand-woven to create a vivid plaid pattern. Madras usually bears a unique texture as seen by bumps or slubs in the yarn created by carding the fibers instead of combing.
What's the difference between plaid and madras?
The term, "plaid", generally refers to checkered patterns of all kinds in the United States. Gingham, tartan, houndstooth and windowpane are all specific types of plaid patterns. Traditionally, plaids tend to be made of wool, but have been modernized to come in all kinds of fabric such as cotton and polyester. Plaid can also refer to the rectangular garment worn over the shoulder in Scotland as part of Highland Dress.
Madras is much more specific, referring not only to the pattern, but also to the dyes and fabric used. Traditionally, madras fabric received its bold hues from natural vegetable dyes and oils, but today's madras is dyed using artificial dyes as technology has advanced. In order for a fabric to be authentic madras, it must meet strict criteria:
It must come from the India's Chennai region, formally known as Madras, according to the U.S. Federal Trade Commission.
Both sides of the cloth must have the same pattern.
It must be yarn-dyed and then hand-woven.
Why is madras tied to India?
Historically, madras originated in India nearly 5,000 years ago. The manufacturing process is rich in tradition and authentic madras is still produced in India's Chennai region (formally Madras) today.
When was madras popularized in American fashion?
Sears offered the very first madras shirt for sale to the American consumer in its 1897 catalog. This "new" fabric skyrocketed in sales and by 1919, the New York Times was reporting a shortage of the fabric in the U.S.
Throughout the 1930's and 40's, the easy-wearing fabric was well-loved by American tourists who could afford trips to the British controlled-Bahamas during the Great Depression. While seen as an overt sign of wealth and prestige in America, madras signified a lower societal status in its native country of India.
In 1958, madras was popularized again when Brooks Brothers purchased 10,000 yards of fabric from a textile trader for various types of clothing. The merchant did not disclose that the fabric should be washed in cold water to avoid fading and bleeding. Upon launching the new garments and unbeknownst to Brooks Brothers, the reactive and unstable dyes left mobs of angry customers with discolored garments due to bleeding fabric. Later spun as a marketing effort to young consumers in Seventeen magazine in 1966, the tagline "Guaranteed to bleed" became an overnight success and popularized madras shirts once again.
A product call out from a 1966 catalog reads, "Authentic Indian Madras is completely handwoven from yards dyed with native vegetable colorings. Home-spun by native weavers, no two plaids are exactly the same. When washed with mild soap in warm water, they are guaranteed to bleed and blend together into distinctively muted and subdued colorings."
You can spot the madras influence in our Fall/Winter 2021 Collection across quilts, pillows and apparel items. Our newest collection pays homage to generations of artisans and artists honoring their skilled work and celebrating tradition.