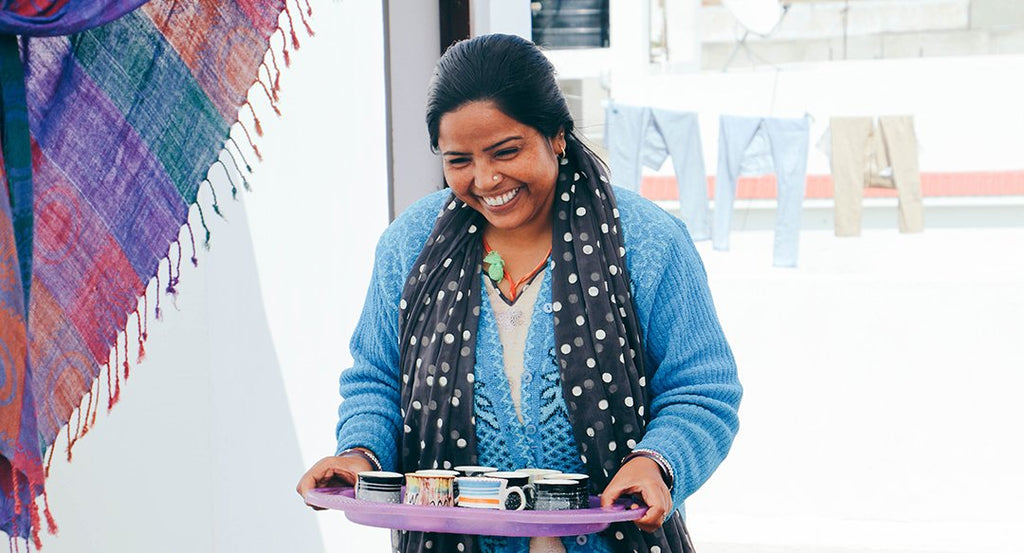 When we first met Shama three years ago she would have tears in her eyes almost every time she spoke about herself and her past life. She was very sad and felt like this was the end of her dreams.
Shama did not need pity of any kind, she only needed a little support and direction – she found it in Anchal. Now, it is rare occasion that you will see Shama without a smile on her face. She looks beautiful when she smiles, with a little shyness on her face, eyes closed, soaking in all the happiness that she feels at that moment. It is a great feeling to see what only a little support can do to change people's lives.
Shama wants to be "the perfect project assistant" at Anchal. She confidently machine stitches all of the pieces in preparation for the artisans to quilt. Additionally she trains new artisans, checks the quality of products and helps track production of all pieces being made by all of the artisans. Shama hopes to learn how to use the computer to help expand her skills and would like to save for her own home.
Shama is now the sole breadwinner for her family. She proudly says she has trained her husband to do all the household chores. He keeps the house in order, cleans it, and attends to the children while she is at work. When she gets home in the evening, he has made sure to prepare everything for her to cook the dinner. Shama says, "That is one thing he can't do but, he does almost half of the work needed to cook a meal." With a very coy smile, she adds, "He also offers me a glass of water and cup of tea when I arrive home in the evening. I once told him that this is what a wife does when a man returns home after work, so you should also do that for me when I come back in the evening. And he is doing that!" The sweet happiness on Shama's face as she narrates these small, but exciting changes in her life are enough to inspire anyone. Even the other artisans feel encouraged by her story.
This year, Shama is signing up for 10th exam that she missed when she was forced to drop out of school. Where she once thought her dreams were done, Shama has a new life unfolding where she has new dreams and the ability to make them come true. We are so proud to be a part of her journey.
Your sponsorship guarantees that Shama will be able to continue to support her family and expand her design skills at Anchal.