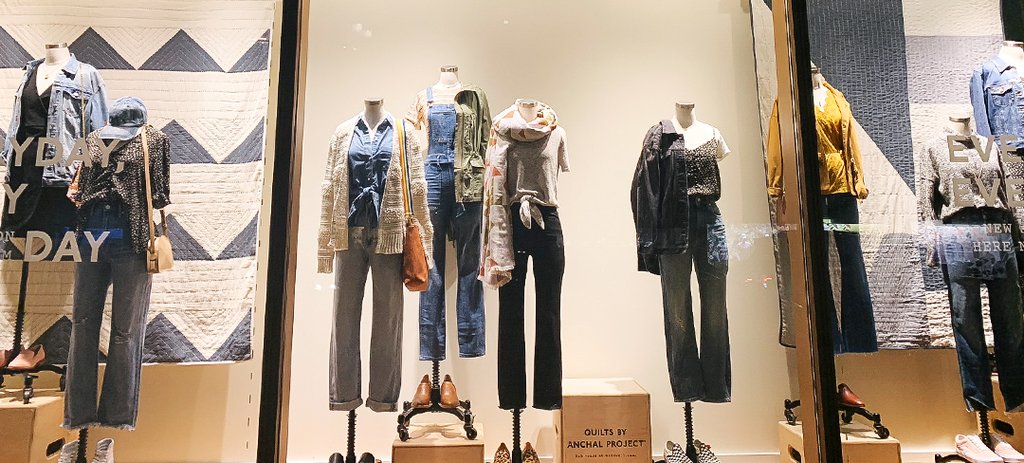 We are excited to announce that Anchal's artisan-made quilts can now be seen hanging in the windows of 120+ Madewell stores across the country. Three of our organic cotton quilt styles were hand-selected by the team to decorate the store windows during the launch of their Fair Trade Certified collection of denim through the month of February. 
Follow the team as they explore NYC to spot all 7 Madewell stores! Anchal + Madewell from Anchal Project on Vimeo.
In conjunction with the window displays, Anchal is also excited to announce the arrival of their contemporary home goods and travel bags on Madewell.com. For the first time, customers shopping on Madewell have access to a wide selection of Anchal's contemporary textiles, further enhancing the fair trade product selection available on Madewell.
"We're thrilled to partner with a brand like Madewell that is embracing the sustainable fashion movement, and taking the important steps to increase transparency in their production process, and incorporate fair trade practices that protect workers and the environment alike." said Maggie Clines, VP, Creative Director, Anchal Project. "It's inspiring to witness retailers like Madewell recognize the need for this shift in the industry, and take the opportunity to educate their wide customer base about the importance of sustainable manufacturing practices."
Anchal quilts are on display in all Madewell stores across the United States and in London through the month of February, and an assortment of bedding, quilts, pillows and travel bags are now available exclusively online through Madewell.com.
To celebrate the collaboration, Anchal will host a pop-up event at Madewell Oxmoor Center on Sunday, February 24th from 12pm-2pm.  Come see the beautiful window display, enjoy sips and sweets, and shop with a special discount of 20% off any purchase of $125 or more.