A Look Behind the Sari Design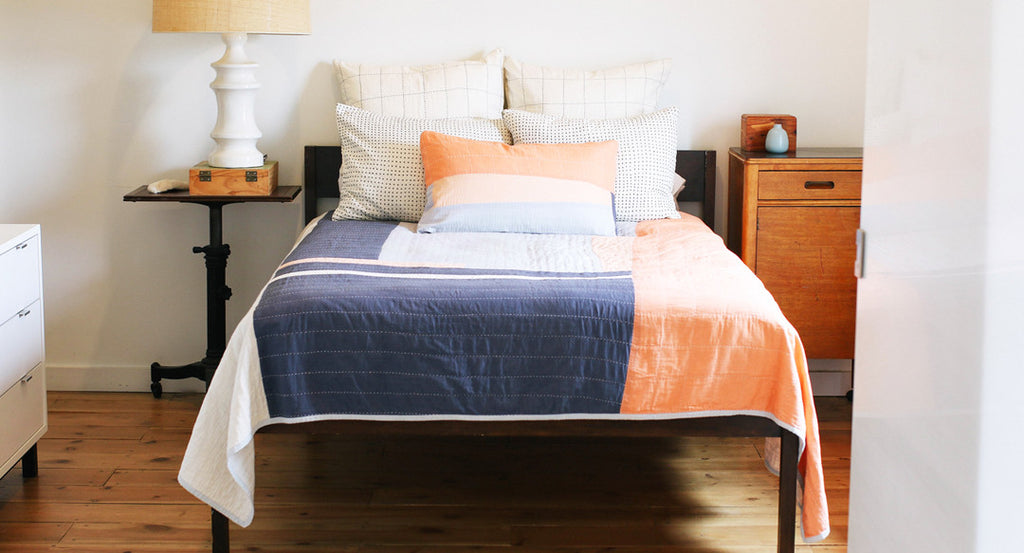 The Narrative Collection is exploring the connection between art and storytelling while inspiring a thoughtful connection to the maker and her journey to empowerment. Each design in The Narrative Collection was inspired by a photo and translated into a quilt's compositional pattern. , we are taking a closer look at the sari design.
This week sat down with Creative Director, Maggie Clines, to learn more about award-winning Sari design:
What was the initial inspiration behind the Sari design?
The Sari Throw was inspired by a photograph taken of a sari (the traditional dress of women in India) blowing in the wind on the rooftop above Anchal's workshop in Ajmer, India. This rooftop is a place for workshops, laughter & story-telling. Anchal values the importance of sisterhood & community - so many friendships have been formed on & under this roof. 
This new collection screams Spring! Were there any specific trends you looked at during the design process?
We were inspired by the soft earthy blues and pinks from
Pantone's Spring 2017 Color Report
 - some of which were carried over from the ever popular
Serenity & Rose Quartz
of Spring 2016.  With the Sari design, we love the subtle tones of blush and peach paired with contrasting grays - this delicate color story is perfect for a fresh Spring aesthetic. Who doesn't love a pop of pink?
I'm sure it is impossible to choose, but what is your favorite piece from the Sari collection?
My personal favorite is the
Sari Lumbar pillow
! The colors are so cheery and soothing, something about this pillow makes me day dream of a Spring afternoon in a field of wild flowers.
What comes next from the Sari collection?
We have some beautiful new scarves launching later this month. Stay tuned because they are worth the wait!
Share with us your favorite piece from the collection with us in the comments below!