A Long-Awaited Reunion in India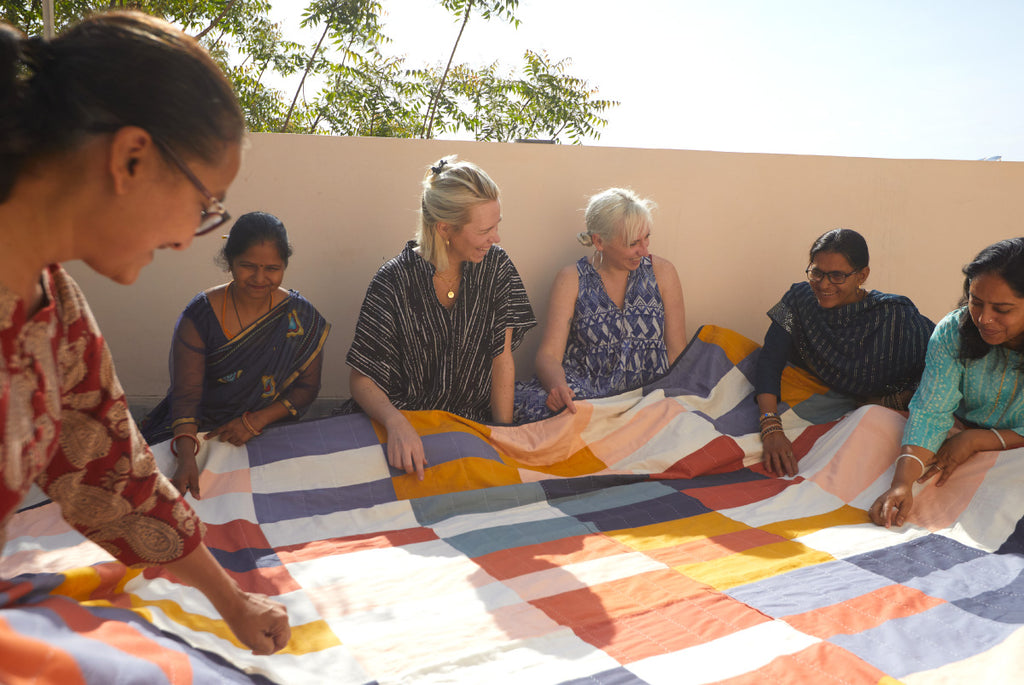 After tremendous anticipation and over 3 years of physical separation, the U.S. Anchal team was recently reunited with the incredible artisan and leadership team in Ajmer, India! Before the pandemic, the team would visit the workshop in India annually. Over the past few years, Anchal has expanded digital connections through recurring Skype calls with the leadership team, WhatsApp photo messages, written artisan updates, and Zoom parties with the entire group. Still, nothing is better than being in the same room with friends.

The traveling crew comprised of sisters and Founders Colleen and Maggie Clines, Anchal E-Commerce Director Ashleigh Bakken, Maggie's husband, David Cobb, and Colleen's husband and photographer, Clay Cook, who captured the stunning images in this post.

Colleen's recap and stories of impact
Our list of to-dos and goals for the trip was long. How do you squeeze 3 years of distance into 10 days? Ultimately our principal purpose was connection and conversation. We have known some team members for 13 years and anxiously awaited catching up with all the women in the program. The genuine relationship we share with the artisans is a unique aspect of Anchal and one that we are immensely proud of. Bonds have been built over the years; we know their names and children's names, drink chai together in their homes and exchange stories about our lives. Additionally, we hope to pass this connection to you through the artisan signature on each piece and storytelling.
The moment we finally arrived at the workshop was magical. Maggie shared,
 "It had been far too long since our last visit - September 2019, to be exact. The excitement of reuniting was building days before our trip began. The first morning we arrived at the studio was incredibly exciting. When we turned the corner onto the street, Anchal's Project Director, Shefali, greeted us. Shefali was waving her arms down the narrow lane; we giggled and shouted hello, and as we neared each other, our smiles grew bigger! Shefali then walked with us as we neared the studio, where all 24 Project Assistants and Management Team were anxiously waiting with welcome blessings and flowers."
Another small reflection of the emotional reconnection occurred when Senior Artisan Neetu and I caught each other's eyes on the first day.
"Neetu was walking into the workshop to drop off a quilt she had just completed at home, and I was in the main office chatting with our Project Director, Shefali. When I looked out the door, we saw each other for the first time in three years. Neetu immediately started tearing up, and I instantly jumped up to embrace her. As we hugged and smiled through the tears of joy, Neetu shared that she did not realize we would be at the workshop that day and was overwhelmed with happiness when she realized we had finally returned. I have known Neetu since she joined the program in 2012. Even though we can not easily communicate with each other, we share strong respect and friendship." 

What's Different
Though several aspects of returning to the workshop felt familiar, much has significantly changed. The first notable difference was meeting new members of the full-time staff. In 2022, 9 new women joined the Project Assistant Team after they completed an Anchal sponsored 9-month training program. With the larger team of 24 came a more extensive workshop space. This new facility had been home to the Anchal workshop for 6 months. The multiple rooms properly allow enough space dedicated to sorting, cutting, patterning, machine stitching, quality control, storage, and gathering for visiting artisans.

With the transformations to the staff size and space, we were impressed to see so many new systems implemented and new coordinated efforts of cross-collaboration between various departments. It is evident that the leadership team of Shefali, the Project Director, and Manju, the Project Manager, have dedicated tremendous effort and commitment to ensure more efficient operations. Witnessing the effective and joyful teamwork was inspiring, and we are very proud of the entire team for this growth.
A Previously Under-Valued Measure of Impact
Beyond the physical changes, what struck us the most was a deepened sense of sisterhood and belonging found in small interactions around the workshop and during group conversations. What seemed like a more minor level of impact in years past compared to financial accomplishments now felt like the most important of all - the collective power of sisterhood.
Ashleigh's reflection shares, "Finally getting to meet the women in person that I've only known in photographs for 5 years is a memory that I will never ever forget. I was in awe at the sense of community and sisterhood they've built - you can tell they rely on one another at work and beyond. Whether they're humming songs while sewing or cracking jokes over afternoon tea, the laughter that floats throughout the workshop is so infectious and heartwarming."
During shared exchanges with the Project Assistants, many repeatedly told us how much happier they were at the workshop and how supported they felt by the other women and specifically Shefali, Manju, and Seema, the newly promoted Project Supervisor.
Andlib shared,
"I am happy to work with Seema. She is very kind, patient, and a good teacher. Seema has helped me open up and talk to people. I am more confident since joining and feel happy that I can support my family, and they respect me for it."
In return, Seema told us,
"I like that the artisans come here and share their problems with me. I teach them new products with patience and encourage them to keep going. I feel proud of my work here."
Ruksar communicated,
"It was not easy at first to make this change in my life, but I feel more confident now and refreshed when I come to the workshop. I can talk to anyone here and feel supported by the women here. I feel happier at work than I do at home. When I am home, old life challenges are there."
Where women face unique challenges and inequalities, as well as the isolation we all felt worldwide due to the pandemic, the strength and solidarity found in sisterhood provide a powerful force for change. Anchal provides that space for women to create a support system for sharing experiences, knowledge, and empathy, enabling women to uplift one another, navigate obstacles and inspire future generations to strive for gender equity.

Economic Independence
As we continued speaking to artisans and visiting the homes of several women, the transformative force that their job provided was demonstrated and confirmed throughout their lives and their children's lives.

Mumtaz conveyed that she recently purchased a home with the help of her earnings from Anchal.
"Everyone dreams of having their own home, and now I do! I plan to continue making home improvements. It makes me feel happy and proud."
Additionally, Rajiya shared,
"My husband lost his job during COVID, and I supported my family during this time. I am now helping pay off repairs to his auto-rickshaw for his work, and I am almost finished."
During a home visit, Farenda's mother told us,
"You gave my daughter an opportunity, and she took it! She works hard and can send her daughters to a private school. Thank you, thank you for this."
Seema proudly told us with a big smile, "My daughter is in her first year of college now. I did not get to pursue my education, which makes me very proud that she can. She is very bright and smart, and I want to give her the freedom to pursue her dreams."
Employment opportunities like Anchal allow women to create economic independence, empowerment, and self-sufficiency for themselves. A job provides a source of income and can serve as a platform for their voices to be heard while supporting the next generation.
A Proper Celebration
On the final day in Ajmer, we invited the entire artisan community to come together and celebrate their hard work and accomplishments. The team celebration was a joyous event filled with excitement, reunions, laughter, and camaraderie.
The program included a large screen presentation that served as a moment of reflection and appreciation for each team member's hard work and dedication. We highlighted the team's achievements and milestones, like our collaboration with the Guggenheim Museum, retail stores where their pieces are sold, our studio and team, lifestyle images from photoshoots, and stories from customers about how much they love their products. Throughout, there were many rounds of applause and smiles of joy.
Following the presentation, the atmosphere became even more vibrant as energetic dance performances by the Project Assistants and artisans took the stage. The team showcased their talent, enthusiasm, and unity through various dance styles, mesmerizing everyone.
To add to the fun, exciting games were played, including a round of Anchal trivia, fostering friendly competition and creating moments of shared laughter and team bonding. Delicious snacks and refreshments were served, fueling the festive spirit. As the celebration continued, the dance floor opened up, and team members enthusiastically joined in, dancing and celebrating their collective success. It was an unforgettable day that not only celebrated achievements but also reinforced the strong bonds and positive energy within the team.
We hope all of you reading feel the impact you have helped create in hundreds of women's lives. Thank you for making this story possible!
Images above courtesy of Clay Cook Photography
More Behind the Scenes...