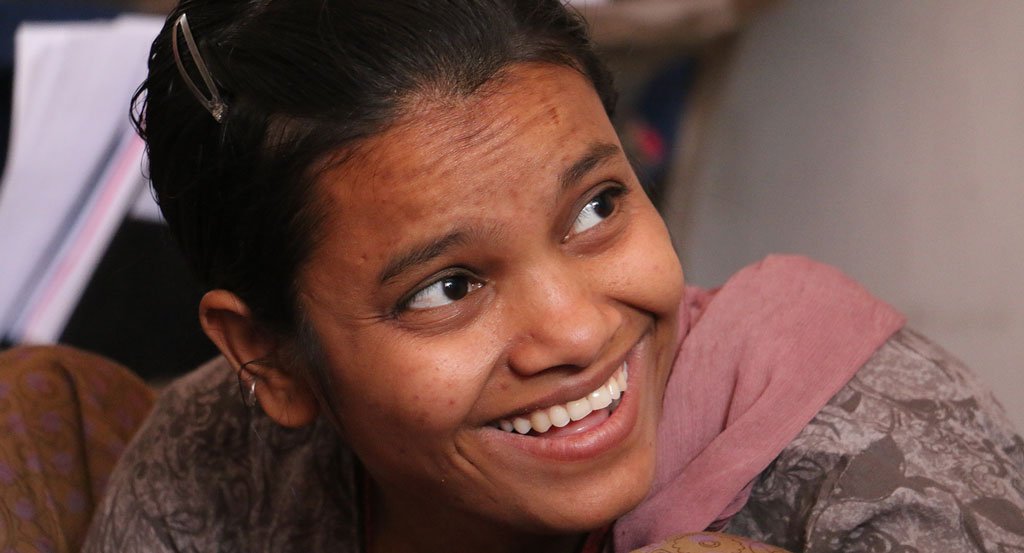 I knew Nazia before she knew me. I knew that she had an arranged marriage and became pregnant at age 16. I knew that her husband abandoned her and their son when she was only 18 years old and she often feared that she wouldn't be able to provide for her family. I knew that this fear grew over the years as her mother's health declined.
Colleen and Maggie told me Nazia's story as an example of the adversity that Anchal artisans face on a daily basis - hardships that neither you nor I can truly fathom.
In a trip to Ajmer, India, in 2013 the Anchal team asked several artisans what differences Anchal has allowed them to make in their lives. Since the inception of Anchal in 2010, artisans had experienced dramatic changes—Shakuntela invested her gained income in her daughter Parthi's private education, Nita moved out of the slums into a home of her own where she is no-longer stigmatized for her previous life and Nafisa became a leader in her community.
When Nazia was asked the same question, she responded simply that with Anchal she is now able to buy fruit for her son. Prior to Anchal, fruit was an unaffordable luxury. Through streams of tears Nazia explained that she would carefully navigate around the fruit aisle at the local market so that her son wouldn't be tempted by what she couldn't give him. Hearing Nazia's tale was a raw, honest, and above all, humbling moment. Our prior perceptions on change were contingent solely on materialistic, economic changes in the lives of the women we work with. What Nazia's sense of accomplishment taught us, is that the change in day-to-day life can encompass the difference in perception of what constitutes poverty. It taught us that the seemingly small, unnoticed things can be a reflection of the biggest difference.
Since 2013, Nazia has worked incredibly hard, consistently creating beautiful, marketable pieces. Colleen recognized Nazia's natural talent and keen eye for design right away. She was promoted to project assistant and is a role model to the other artisans.
I met Nazia in March of 2015. I was nervous, but mostly excited to get to know her. I prepared interview questions for our social impact reports and wanted to hear about her new job as project assistant. Nazia was more quiet and reserved than the other artisans. Smart, hardworking and dedicated, I observed her eager to complete new designs and get Colleen's approval. It wasn't necessary - Colleen has been impressed with Nazia for years.
Nazia requested that Colleen sit in on the interview and they held hands as Nazia opened up to me. Since her last interview, she has been able to afford medicine for her mother, education and a private tutor for her now 8-year-old son. She often sits in on the lessons so that she can help him with his homework if he has questions later. She assured me, "He will have all of the opportunities that I didn't." I have no doubt that's true.
Throughout my 6-weeks in India I felt fortunate to really get to know Nazia. We shared stories over chai, I gave her lessons with the camera and she did my hair for Colleen's birthday. She painted my hands with Henna, took a nap on my shoulder and showed me new designs that she had been working on - a pillow with an embroidered border and a cross-body bag with a separate cell-phone pocket. Her love, affection and optimism made it hard to believe that she had been through so much. She was not the woman that once sat in front of Colleen and Maggie in tears.
On International Women's Day I got to meet her son- a happy, energetic eight-year-old who was flying from the swing set. She warned him to be careful, not to swing too high, and he rolled his eyes at her and ran off with his friends. After all, she is a mother - inherently worried about his wellbeing. But now she worries about him being overly ambitious on the playground rather than him going to bed hungry. She smiled, pride beaming through her eyes. She no longer lives with the fear that she won't be able to support her family. She did it.
Two months ago we found out that Nazia is leaving Anchal. Though initially we were shocked and sad, we are, ultimately, overjoyed for her. Anchal Project's goal is that the artisans develop the training and skills so that they can be self-sustaining and support themselves through lucrative employment. And in only 5 years, Nazia elevated herself and her family from extreme poverty. And as much we'll miss her, we know that she is off to bigger & better things.
When people ask me if I believe that Anchal is truly making a difference, I ask them if they have time for a quick story. And I tell them the story of Nazia.
-Tess
UPDATE: After further consideration, Nazia has decided to extend her stay with Anchal. She is dedicated to her work and also to the training of new artisans. We are thrilled to keep her as a part of the team and family.